Report a Crime
---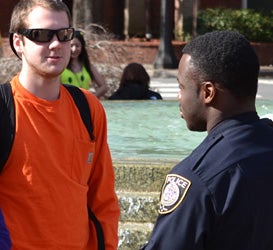 "People Aren't Suspicious, Behavior is!"
In an effort to create a safe environment for EVERYONE that visits our campus, the ECU Police Department would like to encourage our "community" to report any crimes or suspicious activity that you may observe or encounter by completing the online form below. Your report will be sent to us via e-mail where it will be forwarded to the appropriate division in our police department for follow-up.
---
Please note: You are completing the following questionnaire under a condition of anonymity. If you wish that we contact you, enter your contact e-mail address and/or phone number at the bottom of the form. All information is kept strictly confidential.
This form is for reporting Anonymous Crime Tips Only.
DO NOT USE THIS FORM, if . . .

You are the victim of an actual crime and wish to file a report with the ECU Police Department; 

You are reporting a crime in progress;


You are reporting an emergency
In those cases, dial 911 or ECU Dispatch @ (252) 328-6787 immediately.
If your web browser does not support forms, you can call the ECU Crime Tip Line at (252) 737-8477, or give notification by e-mail at gregoryc@ecu.edu.
Please Note: NCGS 14-225 False reports to law enforcement agencies or officers: Any person who shall willfully make or cause to be made to a law enforcement agency or officer any false, misleading or unfounded report, for the purpose of interfering with the operation of a law enforcement agency, or to hinder or obstruct any law enforcement officer in the performance of his duty, shall be guilty of a Class 2 misdemeanor.